Google Fiber is one of the top internet service providers in the United States, offering blazing-fast gigabit internet speeds. However, there may come a time when you need to cancel your Google Fiber service.
Canceling Google Fiber is a relatively straightforward process that can be done through their website if Google Fiber service is not installed at your address or by contacting customer service in case Google Fiber is already active.
In this comprehensive guide, we'll walk through the step-by-step instructions on how to cancel Google Fiber properly to avoid any fees.
How to Cancel Google Fiber?
You can cancel your Google Fiber service either before or after the service has been installed.
If Service has not been Installed – Login to your Google Fiber account online, navigate to your account, and then, under profile, select "Cancel Fiber Service." 
If Google Fiber Service is already active – call, email, or chat with Google Fiber support to cancel.
Choose or discuss your disconnection date.
Return all rented equipment within 60 days to avoid fees.
Pay the final prorated bill to finalize the cancellation.
Deactivation will occur on the selected cancellation date.
Here is a step-by-step Infographic for easy understanding.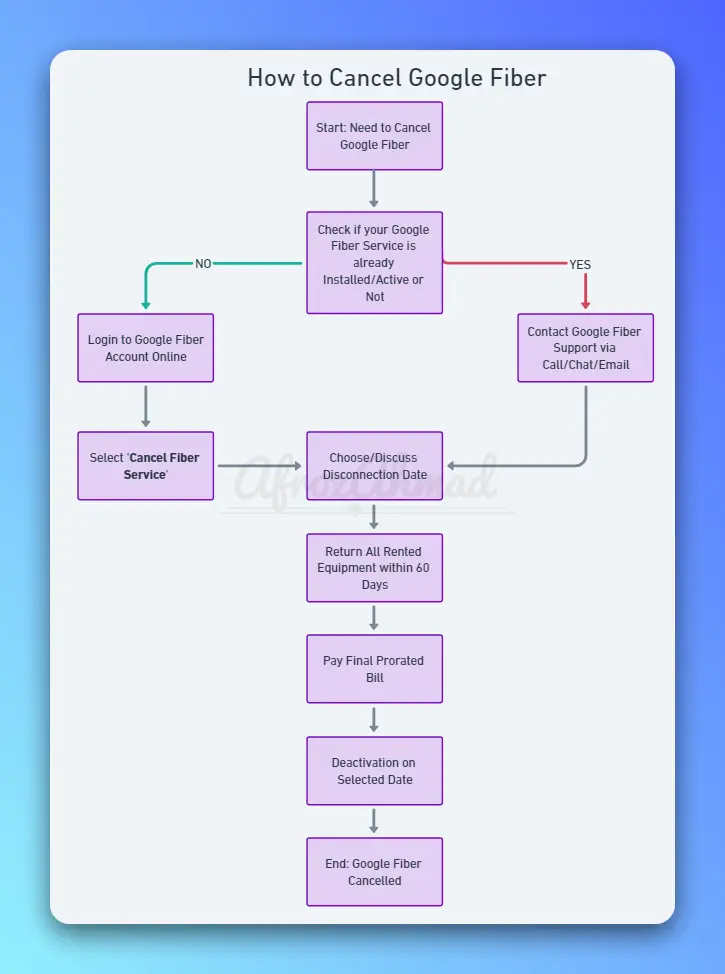 Google Fiber Overview
Google Fiber is currently available in 19 metro areas across the US. The service offers internet speeds up to 1000 Mbps with no data caps.
Google Fiber also provides TV service and phone services in select markets. Their pricing ranges from $50-150 per month, depending on your location and the services selected.
Reasons to Cancel Google Fiber
There are several common reasons customers may need to cancel their Google Fiber service:
Moving out of a Google Fiber service area
Switching to another internet provider
Can no longer afford the monthly costs
Dissatisfied with the service quality
Whatever your reason for leaving Google Fiber, it's important to properly cancel your account and return any rented equipment to avoid extra charges.
You might prefer Xfinity over Google Fiber. Check out Google Fiber vs. Xfinity: Which is The Better Choice? for a detailed comparison of both services.
How to Cancel Google Fiber – (If Services have not been installed)
You can follow these simple steps to complete the cancellation process of Google Fiber service smoothly if services have not been installed yet:
Log in to Your Google Fiber Account
Navigate to your profile settings.
Click cancel fiber service.
Step 1: Log in to Your Google Fiber Account
Once logged in, go inside your account page.
Click on the manage Profile option.
Step 3: Click on "Cancel Fiber Service."
When under profile, click "Cancel Fiber Service".
This will take you to the cancellation page.
And that's it! Google Fiber makes it simple to cancel service right through your online account.
Note: If you can't find the 'Cancel Fiber Service' option, this could mean that the service is already active at your location. In this case, proceed to the alternative methods below.
Contact Google Fiber Support to Cancel (If Google Fiber Service is already installed)
Alternatively, you can cancel Google Fiber by contacting the Google customer support team:
Phone: Call (866) 777-7550 for Residential or (855) 418-8326 for Business to speak with a representative.
Online Chat: Start a live chat session on Google Fiber's support site.
Email: Send a cancellation request to the email associated with your Google Fiber account.
No matter which route you choose, make sure you have your account details handy. A support rep will ask for this information to process the cancellation. This may take 1-2 business days to process.
Return Google Fiber Equipment
After canceling service, you'll need to return any Google Fiber equipment you rented:
Fiber jack and router
Network box
Fiber TV box
Any mesh WiFi extenders
Google Fiber provides a prepaid return shipping label by email. Place the devices in the original packaging and drop them off at a FedEx location.
All equipment must be returned within 30 days of canceling, or you may be charged up to $300 in unreturned equipment fees.
Google Fiber Cancellation Policies
Google Fiber does not charge a cancellation fee. However, it's important to understand their cancellation policies:
Customers must return equipment within 60 days or pay non-returned equipment fees.
Failing to return equipment on time or damaged incurs fees: $300 for the storage box and $200 for the network box.
The prorated charges for your final month of service must be paid.
If you cancel before installation is complete, you may owe construction fees.
Pausing or canceling TV/phone restarts any contracts or promo pricing.
Review your contract terms to ensure no additional cancellation fees apply.
What Happens After Cancelling Google Fiber?
Once you cancel Google Fiber service, here is what you can expect:
Your account will be deactivated on the disconnection date you selected.
You'll no longer have access to Google Fiber internet, TV, or phone services.
Your monthly billing and auto-payments will be stopped.
Any TV video-on-demand purchases may be lost.
Your Google Fiber email will eventually be deactivated.
Make sure to back up any data you want to keep from your Google Fiber account. And be prepared to switch over to a new internet provider if needed.
Alternatives to fully canceling Google Fiber service:
Pause Service Temporarily
You can pause service for up to 6 consecutive months.
Billing will stop during the paused period.
You retain your connection and can unpause anytime.
Your account and email stay active while paused.
Transfer Service to Another Account
If moving, you can transfer service to someone else at your address.
They must create their own Google Fiber account first.
You will still need to return any rented equipment.
The new account holder starts fresh with no previous bills due.
Upgrade or Downgrade Your Plan
As an alternative, you could change your Google Fiber plan.
You can upgrade to a higher speed tier for more performance.
Or downgrade to a lower tier to save money each month.
Changes can be made easily through your online account.
Move Service to a New Address
If relocating within a Google Fiber service area, you can move service to your new address.
Initiate the process through your online account settings.
Google Fiber will coordinate the installation at your new home.
Your current service continues until the new activation is complete.
These options allow you to make changes or temporary adjustments without fully canceling Google Fiber service. Just be aware of any effects on your plan rates, contract terms, or setup fees.
Conclusion
Canceling Google Fiber is a quick process if done properly through your account. Be sure to understand their cancellation policies to avoid extra charges.
With this guide, you now have all the key steps to follow to cancel your Google Fiber service smoothly and hassle-free.
FAQs About Cancelling Google Fiber
Here are answers to some frequently asked questions about canceling Google Fiber:
How much does it cost to cancel Google Fiber?
There is no cancellation fee. You only need to pay any remaining bill and return equipment to avoid fees.
Can I cancel Google Fiber over the phone?
Yes, you can call their support line to cancel service over the phone.
Do I have to return the Google Fiber equipment?
Yes, all rented routers, boxes, and other equipment must be returned within 60 days of canceling.
What if I move and can't return the equipment?
You are required to return all equipment provided to you. If you decide to keep any equipment, replacement fees will apply, or you may need to pay for return shipping if you decide to return at a later date—contact support to make arrangements for retrieving equipment.
Can I pause my Google Fiber service instead?
Yes, you can temporarily pause service for up to 6 months instead of fully canceling.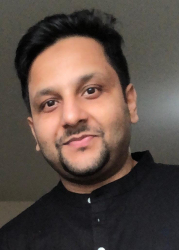 Latest posts by Afroz Ahmad
(see all)