Getting fast and reliable internet service at home is crucial in today's digital world. With more people working from home, streaming movies and shows, and using multiple connected devices, having a high-performing internet connection has become a necessity.
Two of the top providers that offer ultra-fast fiber internet in the United States are Google Fiber and Xfinity. But which one is better for your needs? The goal of this post is to provide an in-depth comparison between Google Fiber vs. Xfinity – two leading fiber internet providers in the US. We will examine the speeds offered, coverage areas, pricing and plans, installation process, customer support, and additional features of both services.
The goal is to equip readers with sufficient information to determine which provider offers the best value and fastest speeds for their location and budget. Factors like reliability, latency, contracts, data caps, and bundled services will also be analyzed.
By the end of this comparison, you should have a clear understanding of the key differences between Google Fiber and Xfinity and which provider is better suited for your home or business internet needs.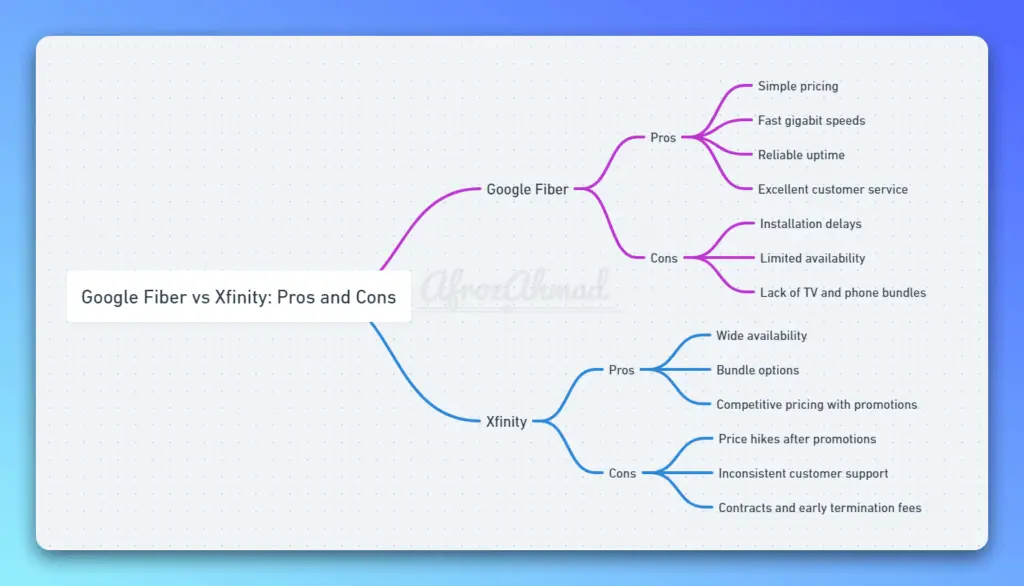 Key Takeaways – Pros and Cons – Google Fiber vs Xfinity
Here is an extensive pros and cons table comparing Google Fiber and Xfinity:
Category
Google Fiber
Xfinity
Speeds
– Offers symmetrical gigabit speeds up to 1000 Mbps
– Low latency around 15-25ms ideal for gaming
– Consistent and reliable with minimal variation
– Maximum speeds up to 1200 Mbps
– Low latency when on fiber network
– Slower uploads than downloads
– More peak time slowdowns
Pricing
– Simple pricing of $50-$70/month
– No contracts or commitments
– No data caps
– Free installation
– No hidden fees
– Wide range of plans from $20-$299/month
– Bundles available for discounts
– 1 or 2 year contracts
– Many extra fees like equipment/activation fees
– Data overage charges
Availability
– Only available in 19 metro areas
– Must enter address to check eligibility
– Available in 40 states
– Widespread coverage makes it easily available
Installation
– Free professional installation included
– Clean and neat wiring done
– Long waits for installation appointments
– Self-install is free
– Professional install costs extra $89.99
– Quality can vary
Reliability
– Extremely consistent uptimes
– Fiber network not prone to congestion issues
– Good overall reliability
– More outages than fiber
– Slowdowns during peak times
Customer Service
– 24/7 support with minimal wait times
– Knowledgeable support agents
– Quick resolution of issues
– Multiple support channels available
– Inconsistent experiences
– Long holds frequently reported
Extra Features
– No TV or phone bundles
– Limited services beyond internet
– Bundles with TV, home security, mobile
– Integrated packages and billing
Contracts
– No contracts – Cancel anytime
– 1 or 2-year contracts- Early termination fees
Data Caps
– No data caps
– 1.2 TB monthly data cap- Overage fees apply
Equipment Fees
– No equipment fees
 – $14/month modem rental fee
Connection Type
– 100% fiber optic network
– Offers fiber in limited areas- Primarily cable internet
Performance
– Low latency and jitte
– Even speeds 24/7- WiFi inconsistencies (fixed by router upgrade)
– Good speeds when uncongested- Peak slowdowns- Latency spikes during peak times
In summary:
Google Fiber's pros include uncomplicated pricing, blazing-fast gigabit speeds, reliability, and outstanding customer service. The downsides are availability and installation wait times.
Xfinity's pros are its widespread availability, range of bundle options, and competitive pricing with promotions. Cons are contracts, extra fees, inconsistent speeds, and customer service experiences.
What is Google Fiber?
Google Fiber is a subsidiary of Alphabet Inc. that provides fiber-to-the-premises internet connectivity along with TV and phone services. The service first launched in 2010 in the Kansas City metropolitan area.
Some key things to know about Google Fiber:
Pure Fiber Network: Google Fiber delivers internet over a pure fiber-optic network, which allows for symmetrical speeds up to 2 Gbps for both downloads and uploads. This makes it one of the fastest residential internet services available.
Limited Availability: Google Fiber is currently available in only 19 metro areas across 9 states. Availability is limited compared to traditional cable internet providers.
Straightforward Plans: Google Fiber offers just two standalone internet plans – Google Fiber 100 with speeds up to 100 Mbps for $50/month, and Google Fiber 1000 with speeds up to 1 Gbps for $70/month. There are no contracts, data caps, or hidden fees.
Expanding Service: Google continues to evaluate new cities and regions to expand its fiber network. Over the last two years, they've brought service to additional neighborhoods in existing Fiber cities.
Strong Customer Satisfaction: Google Fiber routinely receives high marks for customer service, speed, and reliability. Customers appreciate the easy-to-understand plans and pricing.
In areas where Google Fiber is available, it offers some of the fastest fiber internet speeds at very competitive pricing. The reliability and performance of the network make it appealing for households with many connected devices or data-intensive activities.
If you're considering upgrading your ethernet cables, our comparison of Cat 5 vs Cat 5e vs Cat 6 vs Cat 6a vs Cat 7 vs Cat 8 can help you decide which is best for your needs.
Overview of Xfinity
Xfinity from Comcast is the nation's largest cable internet provider, offering service to over 31 million customers across 40 states.
Here are some important things to note about Xfinity internet service:
Cable and Fiber Networks: Xfinity primarily delivers internet over its cable network, but also offers fiber in limited areas. Maximum speeds reach 1 Gbps over cable and up to 2 Gbps with Xfinity fiber.
Broad Availability: With cables run throughout most of the US, Xfinity availability is much greater than Google Fiber. However, exact plan options vary by location.
Range of Plans: Xfinity offers multiple stand-alone internet plans ranging from 50 Mbps to 1.2 Gbps, with varying price points from $20–$299/month. Bundles with TV and phone are also available.
Contracts and Data Caps: Most Xfinity plans require 1- or 2-year contracts. Data caps of 1.2 TB/month apply to lower-tier plans, but unlimited data can be added for an extra fee.
Extra Fees: In addition to the base internet price, Xfinity charges fees like an equipment rental fee ($14/month), installation fee ($89–$199), and activation fee ($35).
Gigabit Pro Fiber: Xfinity's fastest fiber internet plan is called Gigabit Pro with speeds up to 2 Gbps. But availability is extremely limited for this plan.
Overall, Xfinity offers fast, reliable internet with the advantage of widespread availability. But some downsides exist like contracts, data caps, and add-on fees that customers should be aware of.
Speed and Performance Comparison
When it comes to speed and performance, a fiber internet connection has technological advantages over cable. Let's see how Google Fiber and Xfinity compare in real-world testing.
Internet Speeds
Google Fiber offers two plans: Google Fiber 100 with 100 Mbps speeds and Google Fiber 1000 with 1000 Mbps (1 Gbps) speeds.
Xfinity's lineup includes plans from 50 Mbps up to 1200 Mbps (1.2 Gbps) over their cable network. Xfinity's gigabit fiber plan, called Gigabit Pro offers max speeds up to 2000 Mbps (2 Gbps).
In practical speed tests, Google Fiber's 1000 Mbps plan averaged between 850-950 Mbps consistently for both downloads and uploads. Xfinity's 1200 Mbps cable plan averaged 650-850 Mbps download speeds and 15-20 Mbps upload speeds in testing.
So when comparing the fastest widely available plans, Google Fiber offered faster average tested speeds, especially for upload-intensive tasks.
Reliability and Consistency
Google Fiber's fiber-optic network provides extremely reliable and consistent performance. Variation in speeds is minimal across different times of day.
Xfinity's cable network is susceptible to more fluctuations during peak usage times. While quite reliable overall, slowdowns are more likely during evenings when more customers are streaming video or gaming.
Most customers report rock-solid stability with Google Fiber, even with many devices in use. Xfinity is decent in reliability but some inconsistencies exist due to the nature of a shared cable connection.
If you're suffering from slow upload speeds, our blog post on why your upload speed might be slow can help identify and resolve the issue.
Latency
Latency refers to the time it takes for data to transmit between your device and the internet network. Lower latency provides a more instantaneous response.
Typical latency is 15-25ms for Google Fiber customers. Xfinity cable internet latency ranges from 25-45ms based on location and network conditions.
For applications like online gaming, Google Fiber's extremely low latency gives it another advantage in performance. Minimal lag makes gaming, VoIP calls, and video streaming smooth.
Coverage and Availability
When considering an internet provider, it's important to check if service is available in your area. Google Fiber and Xfinity differ significantly in terms of coverage footprint.
Google Fiber Availability
Google Fiber is currently available in parts of 19 metropolitan areas:
Atlanta, GA
Austin, TX
Charlotte, NC
Chicago, IL
Cincinnati, OH
Denver, CO
Des Moines, IA
Huntsville, AL
Kansas City, MO
Lakewood, CO
Los Angeles, CA
Louisville, KY
Nashville, TN
Orange County, CA
Provo, UT
Salt Lake City, UT
San Antonio, TX
San Diego, CA
San Francisco, CA
Within each city, service is only available in select neighborhoods. Google Fiber's availability is extremely limited compared to major cable providers.
Before moving, you must enter your address on the Google Fiber website to check if your location is in their coverage area. Availability is primarily limited to multi-dwelling units (MDUs) like apartments and condos.
Xfinity Availability
As the largest cable provider, Xfinity offers service in 40 states and availability in most ZIP codes. Specific plans and speeds vary slightly based on region, but service is widely available.
Xfinity covers 40 states, also with large footprints on the East Coast, Midwest, and West Coast. Xfinity services are available in:
California
Florida
Texas
Pennsylvania
Illinois
Ohio
New Jersey
North Carolina
Arizona
Colorado
Washington
Oregon
Nevada
Utah
New Mexico
Idaho
Nebraska
Minnesota
Iowa
Wisconsin
Michigan
Indiana
Kentucky
Tennessee
Georgia
South Carolina
Alabama
Louisiana
Mississippi
Arkansas
Kansas
Oklahoma
Missouri
Alaska
Maryland
Washington D.C.
Virginia
West Virginia
Delaware
New York
Massachusetts
New Hampshire
Maine
Vermont
Connecticut
Rhode Island
Xfinity coverage extends to tens of millions of homes and businesses across the country. It's easier to find Xfinity availability in both urban and suburban settings. They also offer satellite TV service for rural households outside the cable network area.
So while Google Fiber provides extremely fast fiber speeds, its limited service areas restrict availability. Xfinity's cable infrastructure is available at most addresses, even if gigabit fiber speeds are not.
For those new to Xfinity, our guide on how to activate your Xfinity modem can streamline the setup process.
Pricing and Plans
When selecting internet service, pricing is often a primary factor. Here's how the costs of plans, fees, and contracts compare between Google Fiber and Xfinity.
Google Fiber Plans and Pricing
Google Fiber offers straightforward pricing with no contracts required. There are only two plans to choose from:
Google Fiber 100 – 100 Mbps speeds for $50/month
Google Fiber 1000 – 1000 Mbps (1 Gbps) speeds for $70/month
Taxes are the only additional fee. Pricing remains consistent across all Google Fiber regions, and new customer promotions are rarely offered.
All Google Fiber plans include:
Unlimited data
Free professional installation
WiFi router rental included
No data caps, contracts, or hidden fees
Google Fiber needs to run fiber directly to your home to set up new service. As a result, there is a one-time installation fee that averages between $99 and $300 depending on the residence.
You can choose to pay the installation fee upfront or spread out over 12 months with your bill. Overall pricing is straightforward with Google Fiber. You pay a reasonable monthly fee for fast fiber speeds with no restrictions.
Xfinity Plans and Pricing
Xfinity offers multiple tiers of internet plans with varying speeds, data allowances, and term lengths. Gigabit cable plans start around $80/month, but availability varies.
Here is an overview of Xfinity internet plans and pricing:
Performance Starter – 50 Mbps / $20–$30/month
Performance – 100 Mbps / $40–$60/month
Performance Pro – 200 Mbps / $60–$80/month
Blast! – 400 Mbps / $70–$90/month
Extreme Pro – 600 Mbps / $80–$100/month
Gigabit – 1000 Mbps / $80–120/month
Gigabit Pro – 2000 Mbps / $299.95/month
Xfinity plan pricing and availability differs across regions. You must enter your address to view offers available at your location.
Most plans require a 12 or 24 month contract. Equipment, installation, activation fees typically add $150 or more to the initial cost. Data overage charges may also apply if you exceed the 1.2 TB monthly data cap on lower-tier plans.
The fastest widely available Xfinity plan reaches speeds up to 1200 Mbps for around $100/month with a 2-year contract. So you generally pay more compared to Google Fiber for the highest speeds when available.
Installation and Setup for Xfinity and Google Fiber
The installation and setup process also impacts the overall service experience. Here's what to expect with Google Fiber and Xfinity.
Google Fiber Installation Process
Google Fiber installation includes professionally running a fiber line directly into your home. The process takes 2-6 hours depending on the residence.
Here are the steps to get Google Fiber service installed:
Schedule an appointment online or via the Google Fiber app
The technician will access property lines and determine the optimal fiber cable route
Fiber line is connected from the street to your home exterior
Interior wall is drilled to bring fiber inside and set up the network box
WiFi routers and mesh extenders are set up (included)
Technician will activate service and test speeds on your devices
Google guarantees the technician will keep your property tidy and minimize wall holes after installation. Overall, you can expect highly professional installation service coordinated by Google.
Xfinity Installation Options
To get Xfinity service, you can either self-install or pay for professional installation:
Self-install
Pick up equipment at Xfinity store or have it shipped
Connect coaxial cable to cable outlet and modem
Activate service by phone or online
Set up WiFi router and test speeds
Professional install
Schedule appointment date and 4-hour arrival window
Technician will install cable outlet and run a coaxial cable if needed
Modem, router, and set top boxes connected and activated
Confirmation of speeds working on your devices
A professional installation from Xfinity costs $89.99 and is optional. Self-installation is a viable DIY option if your home already has coaxial outlets. Overall, the installation experience can vary more with Xfinity based on your setup scenario.
Customer Support and Satisfaction
Having reliable customer support is vital when issues inevitably come up with your internet service. Here's how Google Fiber and Xfinity compare when you need help.
Google Fiber Customer Support
Google Fiber earns exceptionally positive reviews for customer service and support:
24/7 phone, chat, and email support – Direct access to live agents with minimal wait times
Knowledgeable experts – Representatives are well-trained and familiar with complex fiber issues
Quick resolution times – Most issues fixed within an hour with proactive communication
An American Customer Satisfaction Index survey found Google Fiber scored 86/100 overall in 2019—the highest rating of all measured internet providers.
Google Fiber customers frequently cite pleasant and painless support interactions. There are occasional complaints around new installations taking longer than expected. Overall, exceptional customer service seems a strong priority for Google Fiber.
Xfinity Customer Support
Xfinity gets more mixed reviews when it comes to customer service and support response:
Phone, online chat, and mobile app – Multiple support channels with varying wait times
Inconsistent experiences – Some reps very knowledgeable, others lack training on Xfinity services
Average resolution times – Wait times over an hour not uncommon for complex issues
Third-party surveys like the ACSI rate Xfinity customer satisfaction around 70/100—higher than some competitors but still considered average.
Reviews highlight inconsistent experiences—some customers get quick resolution while others face frustrating issues getting the right help. Long hold times are a commonly cited complaint of Xfinity support. But local repair technicians generally offer good service once dispatched.
Additional Features and Offerings
Beyond just internet service, providers like Xfinity and Google Fiber offer other features and bundles that may appeal to customers.
Google Fiber Features
Since Google Fiber is available in limited markets, the focus is delivering a simple, high-performing internet product.
A few extra features include:
Google Fiber TV – Offers standard cable channels. Limited availability.
1 TB Google Drive storage – Included free with Google Fiber subscription.
Google Nest devices – Bundles and discounts offered on smart home devices.
Fiber Phone – VoIP-based home phone service through Google Fiber.
Overall, Google Fiber does not provide extensive beyond its core internet offering. There are opportunities to bundle with Google-powered services, but no major extras compared to traditional cable providers.
Xfinity Features
As a large cable company, Xfinity offers customers comprehensive bundles and additional services:
Xfinity TV – Hundreds of channel options with cloud DVR. Compatible apps allow streaming access on mobile devices.
Xfinity Mobile – Cellular plan that uses Verizon's network at lower cost for Xfinity internet customers. Includes 5G access.
Xfinity Home Security – Professionally monitored security system with 24/7 emergency support. Requires Xfinity internet.
Xfinity xFi – App-based platform to monitor and control home WiFi network. Provides parental control options.
Peacock Premium – Free access to NBCUniversal's Peacock streaming service included with top-tier Xfinity plans.
For customers seeking a complete bundle with TV, internet, phone, and home security, Xfinity provides integrated services and discounted pricing when you buy multiple products.
User Reviews and Experiences
It's helpful to examine actual customer reviews and experiences with Google Fiber and Xfinity. Here are some candid pros and cons mentioned frequently by users of each service.
Google Fiber
Positive Feedback
Simple, easy-to-understand pricing
Extremely fast speeds as advertised
Reliable uptime with great stability
Helpful and pleasant customer service
Negative Feedback
Installation delays and missed appointments
Inconsistent speeds with WiFi (fixed by router upgrade)
Lack of bundle options for TV and phone
Xfinity
Positive Feedback
Good value for the speed when on a promotion
Reliable performance for streaming and gaming
Availability almost everywhere makes it convenient
Bundles allow one bill for multiple services
Negative Feedback
Sudden price hikes after 12-month promotions
Inconsistent customer support experiences
Problems persist through multiple technician visits
Contracts and early termination fees are restrictive
Key takeaways from user reviews:
Google Fiber customers overwhelmingly praise the incredibly fast, reliable speeds. Top complaints relate to installation delays.
Xfinity reviews are more mixed. Customers like the convenience of bundled services but are frustrated by rising prices after promotions and inconsistent support.
Conclusion
Google Fiber and Xfinity both offer high-speed internet options but have meaningful differences in technology, availability, pricing, and performance.
For customers lucky enough to live in a Google Fiber region, the service provides an outstanding combination of gigabit speeds, reliability, and customer service. Straightforward pricing with no contracts is also appealing. Downsides include limited rollout and installation delays in some cases.
Xfinity cable internet also delivers fast, capable speeds to millions of households through their expansive network. Bundling TV, phone, and mobile is convenient for some. But be aware that advertised gigabit speeds are not available everywhere yet. And Xfinity's pricing is not as transparent, with many extra fees.
In the end, maximizing availability or prioritizing the fastest speeds may dictate which provider makes sense for your home. Weigh the pros and cons carefully to determine if Google Fiber or Xfinity is the superior fiber internet choice in your area.
Frequently Asked Questions – FAQs
Is it worth switching to google fiber?
Google Fiber is worth switching to for improved speed and reliability if available in your area. But check costs, contract issues, and availability first to determine if switching makes sense financially and logistically.
What is xfinity and google fiber?
What is Xfinity?
Xfinity is the internet, TV, and phone service brand from cable provider Comcast. It uses a network of coaxial cables to provide high-speed internet to over 31 million customers across 40 states. Speeds reach up to 1 Gbps in most regions.
What is Google Fiber?
Google Fiber is a subsidiary of Alphabet that provides fiber optic internet service. It offers speeds up to 1 Gbps over an all-fiber network. However, availability is limited to parts of just 19 metro areas across 9 states.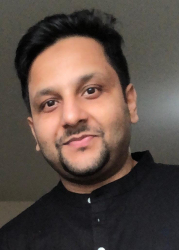 Latest posts by Afroz Ahmad
(see all)