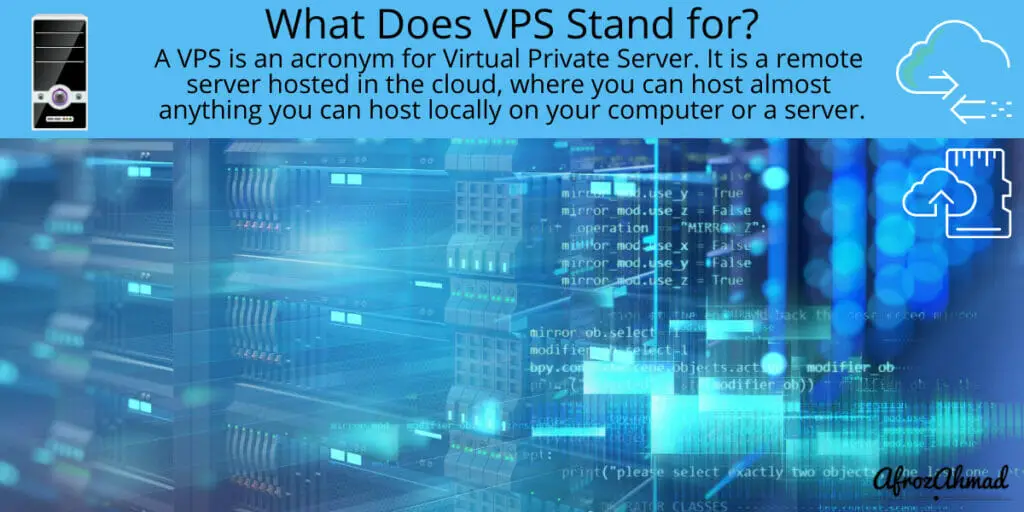 What does VPS stand for? – VPS stands for "Virtual Private Server"!
VPSs are becoming popular as cloud computing becomes more mainstream. I have been using VPS to host my websites for quite a while now. But what does VPS stand for? A VPS (Virtual Private Server) is a remote server hosted in the cloud, where you can host almost anything you can host locally on your computer or a server. A virtual server is a great way to keep your websites running smoothly under budget in a DIY fashion.
We will cover everything from what a VPS is, why I decided to use it to host my websites, and its pros and cons.
So sit back, relax, and enjoy the article.
What Does VPS Stand for? -Details
VPS stands for Virtual Private Server. With a VPS, you'll get your dedicated portion of a physical server, with your operating system, web server, and control panel. You'll also be able to install any software you need without affecting other users on that physical server.
A VPS is a Virtual Server between a shared hosting (where your website shares a single server with all other websites) and a dedicated physical server (where only one user has access to the entire physical server resources).
VPS uses virtualization technology like VMware Vsphere to partition a physical server into multiple servers, which uses/shares hardware resources like RAM, CPU, etc. of the physical server.
With a VPS, you'll get your dedicated server resources ( CPU, RAM, etc.) that no one else can access or use. This can be a great option if your website has specific performance or security needs. This means that your website will be more stable and perform better than on a shared hosting account. It's a great option for businesses or power users who need more control over their hosting environment.
A VPS is a great choice for those who need more control over their web hosting environment but don't need the full resources of a dedicated server.
If you want more control over your web hosting environment than a shared hosting plan provides but do not need the resources of a dedicated server, a virtual private server (VPS) could be the solution for you.
Additionally, a VPS can be a good option if you're outgrowing a shared hosting account but do not need the full power of a dedicated server. VPS plans are often more affordable than dedicated hosting plans and can allow you to scale your website as needed.
Of course, VPS has a higher price tag than shared hosting, but it is a lot cheaper than a dedicated server. That is why a VPS is definitely worth the investment if you need extra power and control and do not want to burn your wallet simultaneously.
Still not sure if a VPS is right for you? Then keep on reading; I will give you my advice based on my experience with multiple VPS hosting servers I use and manage.
In upcoming posts, I will dive deep into each VPS provider I use and suggest what is best for you.
Why do I use VPS to host my websites?
I used to have unlimited shared hosting; sounds awesome, but hear me out. However, when I started to delve into my website's performance by checking my website's score on GTmetrix, Google page speed, and Pingdom, I realized that my website's overall score was poor. I also had a low TTFB score, which indicates that my shared hosting is not as great as I thought.
I was paying close to the price of a VPS, and I decided to look for a better option. One of the obvious choices was to test the VPS, so I bought a decent VPS with the following specs and started to test everything in and out.
VPS Specs:
RAM – 8GB
CPU – 4 vCPU cores
Disk Space – 250GB SSD
Bandwidth – 32 TBPS outgoing per month, Unlimited Incoming
My Test Results:
GTMetrix Page Speed Score – 98/100, TTFB (119ms)
Google Pagespeed Insights Score-Mobile (91/100), Desktop (97/100)
Pingdom Page Speed Score – 81/100
I was amazed by the results and instantly decided to switch from my shared hosting to VPS.
VPS not only provided me with a faster website but also a high level of control, reliability, and flexibility that was impossible with shared hosting.
With VPS, I have my server resources that no one else could use. As a result, I can change (scale up or down, install software, control panels, etc.) the server to fit my website's needs, ensuring that my visitors always have the best experience possible. That's great news because it implies my website won't crash if another user on the server consumes all the server's resources.
I'm running WordPress blogs on a VPS with 8GB RAM and 200 GB SSD storage space. It's fast, secure, reliable, and costs almost the same as my previous shared hosting.
Types of VPS hosting:
VPS hosting comes in mainly two types of flavors:-
Unmanaged hosting:- This is the most popular option available today. In this case, you are given an unmanaged server where you have full control over what happens inside your server. You can install any application or software you like, configure it however you want, and even upgrade it if needed. However, no one monitors your server 24/7, so you will be responsible for keeping track of everything yourself, including the backups, security, updates, patches, etc.
Managed hosting:- This type of VPS hosting is less complicated than the previous one. Here, you get a managed server that a hosting company/provider configures to work per your requirement. They provide all the technical services like 24×7 monitoring, backups, security, updates, etc., for your server and server applications.
While unmanaged hosting seems daunting at first, it can be quite easy to manage your server if you have some experience with Linux and have the required tools in place.
I use unmanaged VPS services because they are cheap, and I already have all the required tools like automated backup scripts/software, monitoring software, etc.
I will be talking more about the tools I have in upcoming posts.
What are the Benefits and drawbacks of using VPS?
Benefits of VPS
VPS offers several other benefits, making it the perfect choice for hosting my websites.
To begin with, VPS is extremely scalable. If my website suddenly becomes popular and starts receiving a lot of traffic, I can easily scale up my server to meet the increased demand. With shared hosting, on the other hand, I would be quickly limited by my server's resources, and my website would suffer as a result.
Another big advantage of VPS is that it's much more secure than shared hosting. Because each website is isolated in its virtual environment, there's a lot less risk of my website being hacked or affected by the activities of other websites on the same server. This is a huge concern for me, as I want to ensure that my website is always available and that my visitors can access it.
Another reason to use VPS is for the flexibility it offers. You can install any software on your VPS and customize it to your needs. Shared hosting does not offer this flexibility.
VPS offers almost the same features and benefits, like speed and performance, as a dedicated server at a fraction of the cost. And everyone knows that website's speed is good for SEO.
Finally, I use VPS because it gives me the peace of mind that my website is always up and running. I do not have to worry about my website going down with shared hosting because another website on the server could consume too many resources.
Most VPS services come with a dedicated public IP address, which is an added advantage because anyone can reach your website from anywhere in the world. Additionally, the VPS service will not be affected by any network congestion or issues with shared IP addresses.
However, with VPS, I know that my website is always available, no matter what.
Drawbacks of VPS
With great power comes great responsibility and some drawbacks, let us understand some drawbacks of using a VPS-
VPS is a DIY (Do it Yourself) solution. A VPS is like having a computer all to yourself. You can install any software you want and are responsible for maintaining and securing the server. This can be a lot of work and challenging if you are not experienced in server administration.
You have to back up your server and the Websites hosted on it.
You cannot control the physical server where your VPS is hosted, you are just renting a virtual machine from someone else, and they have full access to that physical server. If something goes wrong with their server, it will affect you. This is highly unlikely because, normally, the service provider will move your server virtually to another physical machine that is running fine.
Because VPS is a cloud service, the service provider can shut down your server anytime without notice.
Your data on the server may not be secure because there is no encryption.
It is expensive compared to shared hosting.
Check out the level of service you are getting with your provider; if you are getting email support only, then it might take time for their customer service to respond, and your server can suffer in that time.
With some of the VPS providers, you cannot upgrade your server yourself.
A VPS can be slower than a dedicated server because it shares resources with other virtual machines on the same physical server.
Conclusion
If you're looking for a high-powered, scalable, and secure hosting solution, a VPS is definitely the way to go. I've been using VPS to host my websites for a few years now, and I absolutely love it. Although I sometimes run into some minor problems, and at that time, searching google was my best friend, VPS is one of the best choices I have ever made.
I would recommend VPS to anyone who wants to start their website or even someone who has already started their website and needs more power than shared hosting.
Frequently Asked Questions:-
What is a VPS server?
VPS stands for Virtual Private Server. A VPS is a virtual machine that runs on a physical server. A VPS is created by virtualization, which is the process of creating multiple virtual machines on a single physical server. Each virtual machine has its dedicated disk space, CPU, and memory. This allows for increased flexibility and scalability when compared to traditional server deployments. A VPS is like a dedicated server, but it is cheaper because it shares resources with other virtual machines on the same physical server.
What is a VPS used for?
A VPS can be used as a web server to host your websites, an email server to host your emails, a database server, or even as a file server to host all your files, similar to Google drive.
Who is VPS Hosting For?
VPS hosting is for anyone, including an individual like me or businesses and organizations that need more power and flexibility than shared hosting but don't want to invest in a dedicated server. VPS hosting compares favorably to cloud hosting in terms of price and performance. It's also a good option if you're not ready to commit to a dedicated server.
Who VPS is not for?
VPS service is not for people looking for a cheap hosting solution. VPS plans are more expensive than shared hosting plans and require a certain level of technical expertise to set up and maintain. In addition, VPS plans typically do not include features like unlimited storage and bandwidth, which can be important for some users.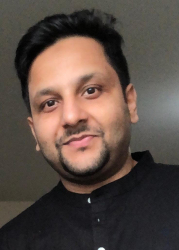 Latest posts by Afroz Ahmad
(see all)