As one of the largest cable and internet providers in the U.S. with over 31 million subscribers, Xfinity offers high-speed internet, digital TV, and home phone service bundles. However, you may eventually want to cancel your Xfinity subscription for various reasons.
Key Takeaways
Here are the key points from the attached article on how to cancel Xfinity services:
Xfinity offers internet, TV, and phone bundles to over 31 million subscribers. You may want to cancel for various reasons.
Common reasons to cancel include moving, unreliable service, high prices, switching providers, or cutting cable TV.
Cancellation options are calling, chatting online, visiting a store, submitting an online form, or mailing a letter.
To cancel, contact Xfinity support and specify which services to cancel – internet, TV, phone, or a combination.
Provide your full name, service address, account number, and phone number to verify your identity.
Pick a cancellation date, often the last day of your billing cycle. Get any confirmation numbers.
Return rented equipment like cable boxes, routers, and modems within 30 days using Xfinity's prepaid shipping.
Expect a final prorated bill on your normal statement date. Review and pay it on time.
If under contract, you may owe $10 per month left as an early termination fee.
Services will disconnect on the date you confirm. Don't expect access past that point.
Alternatives are pausing service, moving service to a new address, or downgrading your package.
Common Reasons People Cancel Comcast Xfinity
Before starting the cancellation process, it helps to know the most popular reasons people decide to cut ties with Xfinity:
Moving – If you're relocating outside of an Xfinity service area, you'll need to cancel. Otherwise, you can transfer Xfinity services to your new address.
Unreliable service – Canceling due to frequent Xfinity connection problems or speeds not meeting advertised rates.
High prices – Upgrading to expensive Xfinity packages can lead some to cancel due to the costs. Prices often hike after promotional rates expire.
Switching providers – You may find a competitor like Spectrum or Google Fiber that offers better deals or services in your area.
Cutting the cord – Ditching cable TV to save money and canceling Xfinity TV service.
Knowing why you want to cancel can give you confidence during the process. Now let's explore how to cancel your Xfinity subscription.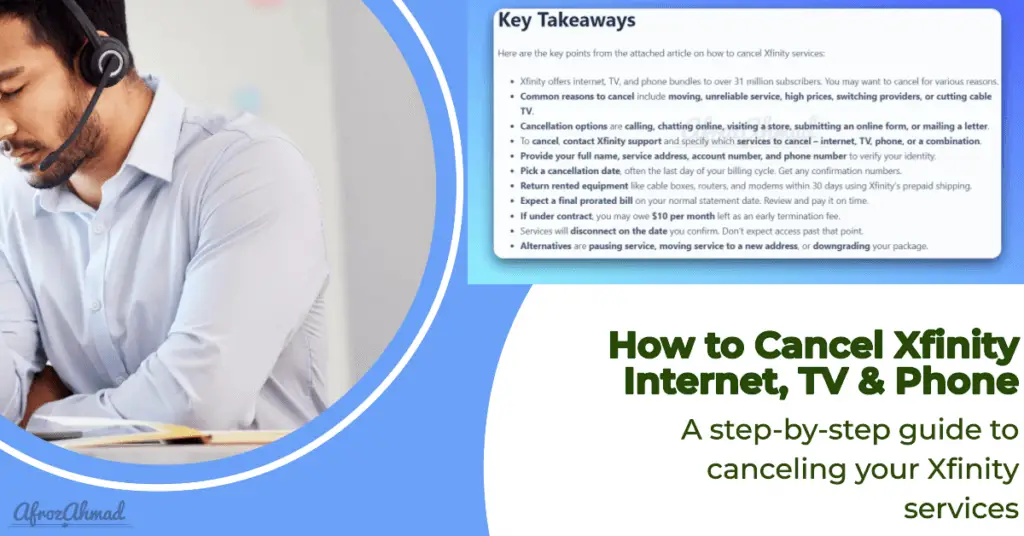 Key Factors to Consider When Canceling Your Xfinity Services
Before you cancel your Xfinity subscription, keep these important considerations in mind:
Return equipment – Any Xfinity equipment you rent, like cable boxes or routers, must be returned to avoid fees. You can bring devices to a local store or use Xfinity's prepaid shipping label service.
Pay final bill – You're still responsible for paying any outstanding balance on your final month's bill. Review it closely.
Early termination fees – If you're under an Xfinity contract, you may owe an early termination fee for canceling service early. This is typically $10 per month remaining on your contract.
Service cut-off date – Xfinity will shut off service on the cancellation date you confirm. Don't expect service past this date.
Email access – You'll potentially lose access to any Xfinity email accounts if not logged into for 90+ days after canceling.
Taking these details into account helps avoid surprise charges or service issues when canceling your Xfinity subscription.
Check out the Xfinity modem activation guide if you are stuck in activation or want to do self-installation.
Check out our list of Xfinity-compatible modems and routers here. It's always best to check this list before purchasing a modem.
Overview of Xfinity Cancellation Options
You have several convenient options to cancel your Xfinity services:
Phone – Call 1-800-XFINITY (1-800-934-6489) and speak with a retention specialist. Provide your account details and reason for canceling.
Online chat – Start a live chat and have an agent walk you through the cancellation process.
Retail store – With over 500 locations, you can likely visit an Xfinity store near you to cancel in person.
Online form – Submit a cancellation request form and Xfinity will contact you directly.
Written letter – Mail a cancellation letter to: Comcast Cable
ATTN: Service Change Requests 1701 JFK Blvd.
Philadelphia, PA 19103
Choose the method that works best for your situation. Next, let's go through the step-by-step process.
Step-by-Step Guide to Cancel Xfinity Services, including Internet, TV, or Phone
Follow this process to cancel your Xfinity subscription:
1. Contact Xfinity Support
First, reach out to Xfinity by your preferred contact method. Specify which services you want to cancel – you can cancel TV, internet, phone, or any combination.
If calling, wait until prompted by the automated system to say "cancel service" to be connected to a retention specialist. Chat agents can also connect you.
2. Provide Account Details
Have the following information ready to verify your identity and pull up your account:
Full name
Service address
Xfinity account number
The phone number on the account
The representative will first try to retain you, so reiterate firmly you want to cancel if you don't want to discuss other offers.
3. Confirm the Cancellation Date
Specify the exact date you want services to end. This is typically the last day of your current billing cycle, but you can request a different date.
Get any cancellation confirmation numbers from the rep for your records. Xfinity will send a cancellation email as well.
4. Return Rented Equipment
If you have any Xfinity equipment like cable boxes, modems, or routers, you must return them to avoid fees. You can:
Drop off at the local Xfinity store
Box up equipment and take to the UPS store
You'll generally have 30 days after canceling to return the equipment before incurring unreturned device fees.
5. Pay the Final Bill
Expect a final prorated bill for your last month of services. Review it closely to ensure no errors and pay it on time. You can pay via Xfinity's website, mobile app, phone, or by mail.
And that's it! Following these steps helps you smoothly cancel your Xfinity subscription.
What to Expect During the Xfinity Cancellation Process
Here are a few things to expect once you request cancellation:
Retention offers – Xfinity reps may offer discounted plans or free months of service to entice you to stay. Be firm if you still want to cancel.
Shut-off date – Xfinity will disconnect services on the specific date you confirm with the rep. You won't have access past this point.
Final bill – Your final prorated bill will arrive on your usual statement date. Check it for accuracy and pay it on time.
Email access – You may lose access to any Xfinity email accounts if not logged into for 90+ days post-cancellation.
Fees if under contract – Expect to pay $10 per month remaining on a contract as an early termination fee if you cancel mid-contract.
Knowing what to expect during the cancellation process can alleviate frustration.
Returning Xfinity Equipment to Avoid Fees
Don't forget to return any Xfinity equipment you rented, like:
Cable boxes
DVRs
Modems
Routers
TV remotes
You can return equipment by:
In-person – Visit your local Xfinity store
Shipping – Use Xfinity's prepaid return label service
UPS – Package items and drop off at a UPS store
Be sure to return equipment ASAP after canceling and no later than 30 days out. Unreturned devices incur fees up to $200 each from Xfinity.
Alternatives to Full Cancellation
Before immediately canceling all your Xfinity services, consider these alternatives:
Pause service – If you need to suspend your Xfinity service temporarily (like when traveling), you can pause service for up to 6 months without paying cancellation fees.
Move services – For those moving to a new home in an Xfinity service area, you can easily move or transfer your Xfinity subscription without penalty.
Downgrade package – Rather than fully canceling, you can downgrade to a cheaper Xfinity package if you want to reduce costs but keep basic services.
These options allow you to avoid new activation fees and potentially early termination fees as well. Give them a look before closing your account entirely.
Cancel Xfinity Without the Hassle
Canceling your Xfinity services doesn't have to be difficult if you follow this guide. Choose your preferred cancellation method, handle equipment returns promptly, and review your final bill closely.
With the right approach, you can smoothly transition away from Xfinity and find a new internet provider. Don't hesitate to contact Xfinity customer support if you need help canceling or have any other questions.
Frequently Asked Questions (FAQs) About Canceling Xfinity
Here are answers to some of the most common questions about canceling Xfinity services:
Can I cancel Xfinity over the phone?
Yes, call 1-800-XFINITY and say "cancel service" to be connected with a representative to cancel your services over the phone.
What is Xfinity's cancellation policy?
If under contract, you'll owe $10 per month remaining. Outside of a contract, you can cancel anytime without penalty.
How long does it take to cancel Xfinity?
It takes 1-2 business days after you submit a cancellation request for it to fully process. The actual service cut-off happens on the date you specify.
Will my Xfinity email still work if I cancel?
Yes, but only for 90 days after cancellation if you periodically log in. After 90 days with no logins, you'll lose access to Xfinity email accounts.
Can I pause my Xfinity service instead of canceling?
Yes, you can temporarily pause Xfinity services for up to 6 months instead of fully canceling. This avoids cancellation fees.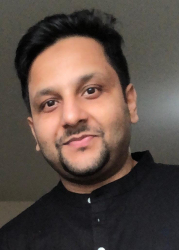 Latest posts by Afroz Ahmad
(see all)