Having trouble remembering your Xfinity Wi-Fi password? You're not alone. The default passwords provided by internet service providers are often complex strings of numbers, letters, and symbols that are difficult to memorize.
The good news is that you can easily change your Xfinity Wi-Fi password to something more memorable. In this comprehensive guide, we'll walk through the step-by-step process on how to change Xfinity wifi password using three different methods:
We'll also provide tips on troubleshooting common password issues and answer frequently asked questions about customizing your Xfinity network credentials.
Here is the Table of Contents. Feel free to skip to the section you would like to read.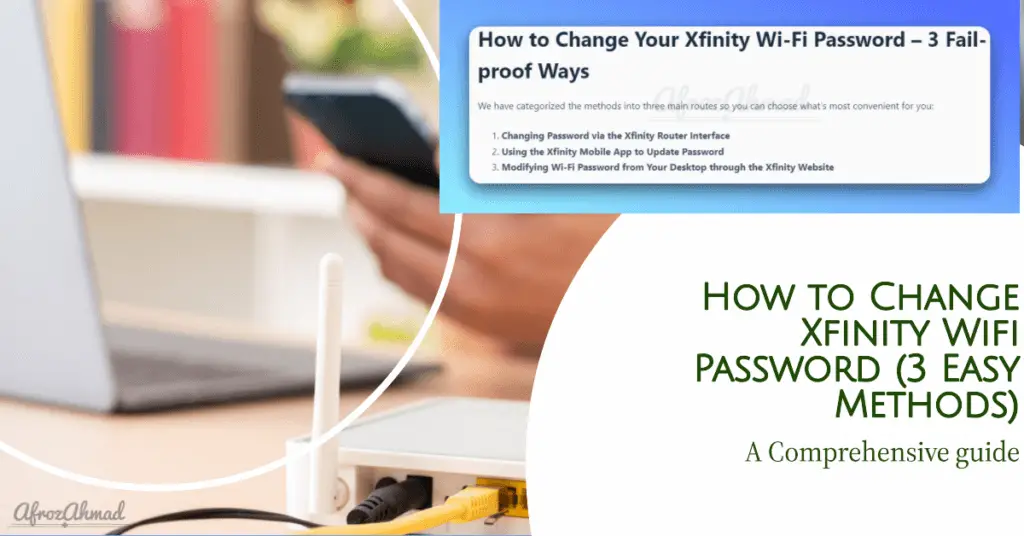 Why Change Your Xfinity Wi-Fi Password?
Here are some key reasons you may want to update your Wi-Fi password:
Enhanced security – Default passwords are easier for hackers to guess. Creating a strong, unique password protects your network from unauthorized access.
Easier to remember – A password like "4KL39XmP2" is hard to memorize. Switching to something like "Pineapple123" is much easier to recall.
Personalization – Updating your password lets you customize your network with a password relevant to you.
Share selectively – You can choose who to share your new password with instead of giving access to anyone with the default.
How to Change Your Xfinity Wi-Fi Password – 3 Fail-proof Ways
We have categorized the methods into three main routes so you can choose what's most convenient for you:
Changing Password via the Xfinity Router Interface
Using the Xfinity Mobile App to Update Password
Modifying Wi-Fi Password from Your Desktop through the Xfinity Website
Changing Password via the Xfinity Router Interface
This is one of the most direct methods to change your Xfinity Wi-Fi password. Follow these steps to make the change via your router's interface.
Prerequisites
Router IP Address: Know your router's IP address. For Xfinity routers, it's usually 10.0.0.1.
Default Username and Password: The default login is generally "Admin" and "Password".
Step-by-step Instructions
Open a Web Browser: Launch any web browser on your device and navigate to 10.0.0.1.
Enter Credentials: Use "Admin" as the username and the default password to log in.
Navigate to Gateway: From the dashboard, click on "Gateway".
Access Connection Settings: Select "Connection," and then click on "Wi-Fi".
Edit Network: Locate your wireless network and click "Edit" next to it.
Change Password: At this point, you can update your password and even your network name, if desired.
Save: Once done, click "Save Settings".
Tip: If you ever forget your login credentials, reset your Xfinity router or WPS button to restore factory settings.
How to change Xfinity wifi password on the phone – Using the Xfinity Mobile App
Another convenient method to change your password is via the Xfinity mobile app, which is available for both iOS and Android devices. The app's user-friendly interface allows for quick and hassle-free changes.
Step-by-step Instructions
Open the App: Log in to your Xfinity account through the app.
Navigate to the Internet: Tap on the "Internet" option.
Select Wireless Gateway: Among the options, select "Wireless Gateway".
Change Wi-Fi Settings: Tap on "Change Wi-Fi Settings".
Update Password: Enter your new password when prompted.
Save: Click "Save" to confirm the changes.
Your password will be updated instantly.
Modifying Wi-Fi Password from Your Desktop through the Xfinity Website
If you'd rather avoid the app or can't access the router physically, using the Xfinity website is an excellent alternative.
Step-by-step Instructions
Login: Open the Xfinity website and log into your account.
Go to Settings: Navigate to the "Settings" option.
Choose Internet: From the sidebar, click on "Internet".
Access Wi-Fi Credentials: Go to "Wi-Fi Credentials".
Edit: Click the "Edit" button next to your current password.
Change Password: Enter the new password and confirm it.
Save: Click the "Save" button to apply changes.
Your password will be updated within minutes.
Customize Your Xfinity Wi-Fi Network
Changing your Xfinity Wi-Fi password gives you an opportunity to fully customize your home network credentials:
Create a strong, unique password that's easy to remember and difficult to crack.
Consider changing your Xfinity network name (SSID) to something personalized.
Upgrade your router equipment for better range and faster speeds.
Enable additional security settings like WPA2 encryption on your wireless network.
Disable automatic connections to limit who can join your Wi-Fi.
Set up a guest network with a separate SSID and password to share with visitors.
With full control over your network name and password, you can configure your Wi-Fi to be as secure, private, and customized as you prefer.
You can also follow Step-by-step Guide to Xfinity Modem Activation and Self-Installation. Or, in case you want information on How to Cancel Xfinity Internet, TV & Phone.
Troubleshooting Common Xfinity Password Problems
If you're having issues changing your Xfinity password, here are some troubleshooting tips:
Reset your router – Reset your Xfinity gateway router to factory settings if you can't access the admin page. This will reset the password so you can access it.
Check account permissions – The main Xfinity account holder may need to make password changes. Log in as the primary account holder.
Double check the current password – If you're entering the wrong current password, you won't be able to change the Wi-Fi password.
Contact Xfinity support – For continued issues, contact Xfinity support for assistance changing your password.
Conclusion
Changing your Xfinity Wi-Fi password doesn't have to be a cumbersome task. Whether you choose the router interface, mobile app, or website method, each offers a simple and effective way to make the change. We hope this definitive guide provides you with the essential steps to update your Wi-Fi password securely and effortlessly.
Frequently Asked Questions (FAQs)
How Can I Retrieve My Current Xfinity Password?
Log into your Xfinity account via the app or website, navigate to the "Internet" section, and your current password can be viewed under "Wi-Fi Credentials".
Why Isn't My Xfinity Password Working?
Password-related issues can often be resolved by a simple reboot of your Xfinity modem or by checking if your billing information is up-to-date.
How Can I Turn Off My Xfinity Wi-Fi?
Access the Xfinity website, log in, go to "Settings," select "Security," then "Hotspot," and click "Turn Off".
What Lights Should Be On My Xfinity Modem?
Why does my Wi-Fi password say it's incorrect?
If your Wi-Fi password suddenly stops working, it likely got changed. Try resetting your router to factory settings to reset the password. Also make sure you're entering the correct password – note the difference between 0 and O or 1 and l.
Do I have to change my wifi password periodically?
Xfinity does not require periodic password changes. Feel free to keep the same password as long as you'd like. However, periodically updating passwords is a good security practice.
Can I use the same password for my Xfinity account and Wi-Fi?
You can, but it's not recommended for security reasons. Keeping separate unique passwords protects your accounts in case one password is compromised.
How long should my Xfinity Wi-Fi password be?
Xfinity requires Wi-Fi passwords to be 8-64 characters long. For optimal security, use a password that is 12 characters or longer with a combination of upper and lowercase letters, numbers, and symbols.
Can I change my Xfinity network name?
Yes, you can change both your Xfinity Wi-Fi password and network name (SSID) in your router settings or Xfinity app. Just note you'll need to rejoin the new network on your devices.
Once changed, simply share your new password directly or have guests connect to the network and enter the password themselves when prompted. Avoid openly displaying or posting your Wi-Fi password.
What are the risks of using a weak Wi-Fi password?
Weak Wi-Fi passwords are vulnerable to hacking, allowing intruders access to your network and connected devices and information. Always use strong, complex passwords to keep your network secure.
Can I reset my Xfinity password if I forget it?
Yes, you can reset your Xfinity router to factory default settings to reset the admin login and Wi-Fi password if you forget your credentials. You can do this by pressing the reset button on the router.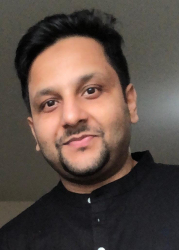 Latest posts by Afroz Ahmad
(see all)