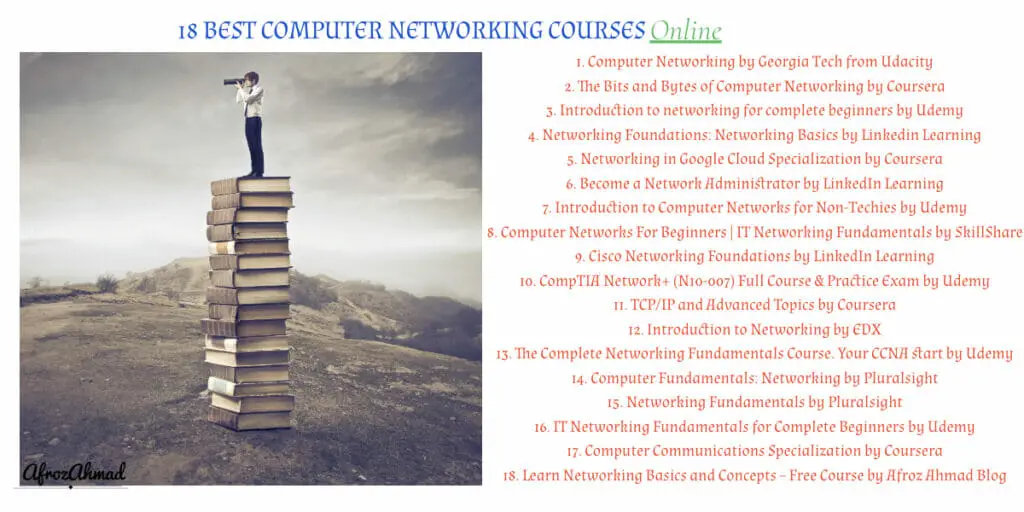 The 18 Best Beginner-friendly Computer Networking Courses Online – 2022
As the world becomes more digital, computer networking becomes increasingly important. However, finding the best computer networking course online can be difficult if you're pursuing a career in computer networking. So we've compiled the 18 best online computer networking courses and their ratings in June 2022. We've got you covered, from free classes for beginners to paid courses for a bit more experienced network engineers. In addition to this information, we've also provided details of chapters and features to help you decide which course is best for you. So whether you're a beginner or want to refresh the networking basics, check out our list!
What is Computer Networking?
Computer networking is the process of connecting two or more computers to share data.
Computer networking is a key component of the Internet. The network of computers makes it possible for you to find almost anything online. In addition, networks are used in businesses and schools to allow employees to work from home or access shared resources remotely.
Networking basics help you learn in and out of networking, how the Internet works and how to use it properly and securely, and more! It is a critical component of any modern business, allowing employees to communicate and collaborate more effectively. So, computer networking is not just for techies – everyone can benefit from understanding the basics!
The 18 Best Computer Networking Courses Online with Ratings
We have hand-picked the following 18 online courses which are unique and available right now:-
What is included in each course?
Each course includes a variety of modules that are flexible to your needs and interests. No prior learning is required for most of the courses, so you can start learning right away. Plus, the courses provide the knowledge and skills needed for success in a networking career.
All courses are online, so you can access them from any device or location. I have provided the necessary details of courses in their relevant sections, let's get started.
Which is the best beginner-level computer networking course online, and how to choose one?
It is hard to say which is the best online computer networking course from the list above, but I will help you choose.
If you are a beginner trying to choose a course, start with one of the free courses. Additionally, take the time to review the course content before starting; this will help you understand what to expect, and you will be less likely to get overwhelmed and stressed during the lessons.
Then, once you have a basic understanding, move on to paid courses to solidify your understanding and gain a certificate to showcase your knowledge.
Conclusion
Thank you for reading!
In the technology world, computer networking is a critical skill for anyone looking to have a successful career. And with the growth of the internet and the need for companies to connect more devices, computer networking has become even more important. That's why we've put together this list of the 18 best computer networking courses online available in June 2022. These courses will teach you everything you need to know about networking technology, from the basics to more in-depth subjects.
If you have any questions about the courses on this list, don't hesitate to contact us. We'd be happy to help you!
Let's recap once more.
What are the advantages of taking a computer networking course online over a traditional classroom course?
Some advantages of taking a computer networking course online over a traditional classroom course may include having a more flexible schedule, being able to choose a course that is less expensive or offered by a preferred school or university, and having a wider variety of courses to choose from. Additionally, online courses may offer more opportunities for interaction with other students and instructors and provide more options to customize learning experiences.
How can a computer networking course online help you advance your career?
A computer networking course online can help you advance your network career by teaching you the basics of setting up and maintaining a network. You will learn about the different networking hardware and software types and how to configure them to work together. You will also learn about the protocols and algorithms used to communicate between devices on a network. Finally, the course can help you to stay up-to-date on current trends in the computer networking field.
This knowledge can be helpful when you are interviewing for jobs or working on projects at your current job.
What are the prerequisites for enrolling in a Computer Networking Course?
To enroll in a computer networking course, you will need to have:-
A sane mind and eager to learn new things.
Computer literacy, at the very least.
The ability to conduct a simple internet search, for example, to do a google search to find out the questions you have in your mind.
Knowledge of the fundamentals of a computer network.
What are some of the most common career paths for people who want to work in computer networks?
In the field of Computer Networking, there are many career options available, to name a few are:-
Network Engineer
Senior Network Engineer
Network Technician
Network Designer
Network Implementer
Network Field Engineer
Network Analyst
Network Data Center Engineer
Network Manager
Network Architect
Suppose I buy a Computer Networking course, but I don't like it.
There are usually 30-day money-back guarantees or free trials for these courses. Please check the details before enrollment.
What happens if I can't attend some of the Online Networking Classes?
The instructor generally records computer network classes so you can replay them later. Additionally, most online classes are pre-recorded, and you can take them at your own pace. Check the details before enrollment.
Can you be certified in computer networking without taking a computer networking course or degree?
Yes, you can study and prepare yourself, give the exam directly, and become certified through Cisco, Juniper, or any other network vendor of your choice. For example, CCNA (Cisco Certified Network Professional) or JNCIA is the most popular network exam. They do not require you to take any course or degree as a prerequisite to appear for the exam and provide the certification.
What are some of the free online courses in computer networking?
Some of the completely free Online computer networking courses are:-